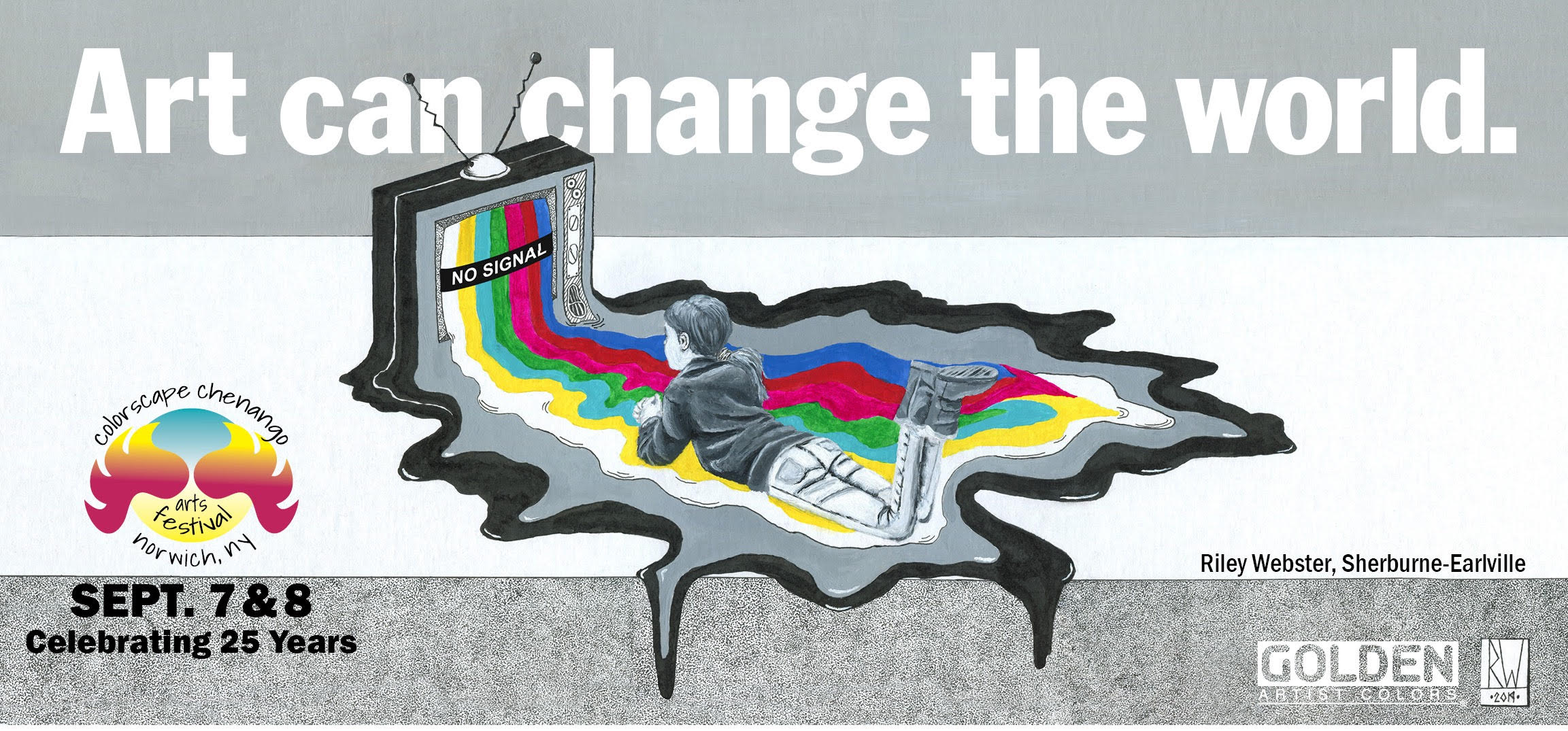 Colorscape Chenango Arts Festival organizers and Golden Artist Colors invite all Chenango County high school-aged students, including public, private or homeschooled (age equivalent) to enter the 2nd annual "Art Can Change the World," a contest that will lead to a winner's artwork adorning a billboard on Route 12 from July through October in helping promote the 26th Colorscape this September. 
The Billboard Challenge is a collaboration between Golden Artist Colors and Colorscape Chenango Arts Festival. BOCES Arts in Education Coordinator Jessica Dakosty is helping Golden and Colorscape reach out to the county's art coordinators to encourage high school art teachers to either incorporate the challenge within their curriculum or encourage their art students to independently create an original work using any media. The image will be judged by a jury of professional artists and art educators and $250 in prizes from Golden Artist Colors will be awarded to the top five images that best depict the theme: " Art Can Change the World." Last year, Colorscape organizers awarded a total of $1,250 in prize money to five finalists carefully chosen from 41 creative submissions.
Colorscape Chenango Arts Festival Board President Melissa deCordova said, "We look forward to being inspired again this year by students who take the challenge. What a wonderful opportunity to broadcast your own opinion about how art can change the world! We are also very appreciative of this and all sponsorship activities and volunteerism so generously donated to Colorscape by Golden Artist Colors."
Golden Artist Colors Chief Executive Officer Mark Golden is passionate about convincing youth they can make a difference through their art, and the Billboard Challenge is one way of encouraging students to create. "Climate change, poverty, drug abuse, lack of personal contact, over commercialism … these are just a few of the issues that confront young adults today," said Golden. "Making sense of any of or all of these can be absolutely overwhelming, leaving us with a sense of malaise, cynicism, or even worse… panic." "Art can inspire us, make us think and reflect, or engage us in a positive discussion of the issues we face in the world today, be they social, political, environmental, community engagement, or simply honoring love and beauty. Art can speak to so many of these issues, as well as invite us to just smell the roses and recognize the incredible beauty that surrounds us each day that we often dismiss as we go about life." 
Last year's winner, Riley Webster had this to say about his experience "taking part in the competition was a really great opportunity to have a platform for something I was interested in. At the time when I was making my piece, I was interested in how we interact with technology and how it can, at times, do more harm than good. The open-ended format of the competition was really exciting to me as well because I knew I could choose any medium I wanted. Overall, it was a great opportunity to get my work out there and share something I love to do with the community."
Students may create their artwork outside the classroom. To apply download the application and return them to Melissa deCordova at Colorscape Chenango Arts Festival, 27 W. Main St., Norwich.
[tlg_cta icon="ti-file" btn_link="url:https%3A%2F%2Fcolorscape.org%2Fwp-content%2Fuploads%2F2020%2F03%2FCorrected-deadline-for-2020-Billboard-Challenge-Letter-Application-.pdf||target:%20_blank|" button_text="2020 Billboard Challenge Application"]