Go to the Schedule of Events and you'll find the festival link there! To purchase a 2020 Colorscape Chenango Arts Festival t-shirt, click here. Want to help make Colorscape happen? Donate at a level that works for you, become a C-Scaper!
Colorscape Chenango Virtual Arts Festival 2020
Schedule of Events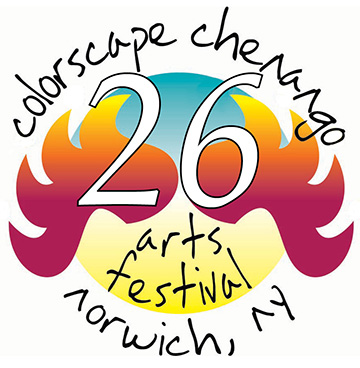 Colorscape Chenango Arts Festival is a free outdoor festival that draws 10-12,000 people to East and West Parks of downtown Norwich, NY, each year on the weekend after Labor Day, with its juried art and fine crafts for sale in an interactive atmosphere, acoustic music by professional singer-songwriters, literary arts, creative culinary arts and hands-on art experiences for all ages. Admission and all activities are entirely FREE of charge. Rain or shine. This year, 2020, the 26th annual festival will be virtual! Please visit the 2020 Virtual Festival tab on our website. 
Take a look at the 2019 Show!
Colorscape 2020 Countdown
Colorscape Chenango is an interactive festival
featuring quality arts and crafts, music, literary and performance art for all ages.
Keep scrolling to see more.
Join Our Colorscape Mailing List!