Please mail completed application to:
Colorscape Chenango Arts Festival
Attn: Culinary Application
P.O. Box 624
Norwich, New York 13815
Eligibility
All food vendors, restaurants, service organizations and individuals are invited to apply for jury selection.
General Information
Colorscape Chenango Arts Festival is a free, two-day outdoor festival that draws 10-12,000 visitors each year with its juried art and fine crafts for sale, live music, literary arts activities, student art exhibit, dance demos, hands-on arts experiences for all ages and creative culinary vending.
Dates & Location
The 28th Annual Colorscape Chenango Arts Festival will be held on Saturday, Sept. 9th, 2023, 10:00 a.m. to 6:00 p.m. and Sunday, Sept. 10th, 2023, 11:00 a.m. to 5:00 p.m. in East & West Parks of Norwich, NY, on NYS Route 12 [35 miles north of Binghamton (I-88, I-86 & I-81) and 45 miles south of Utica (I-90)].
Set-up
Vehicle access for load-in will begin at 2:00pm Friday, ending at 9:00am Saturday and 10 a.m. Sunday. Booths should be set up by 9:30am Saturday and 10:30am Sunday. Vendors who are not set up on time, or who break down prior to closing may be excluded from future participation.
Awards
The $250 BEST OF COLORSCAPE AWARD is based upon on-site judging, beginning at 10 am Saturday. Criteria: Menu creativity, taste, eye appeal, display; Cleanliness; Customer service; User friendliness; Booth theme; and Compliance with application as juried. The award will be presented Sunday at the complimentary Awards Breakfast. Judges' decisions are final.
Menu Guidelines
Colorscape's Culinary Court offers a variety of food and beverages to visitors and showcases restaurants, clubs and not-for-profit organizations. Experience has shown that visitors are receptive to new and different offerings.Be creative and have fun!
Applications are juried on variety, appeal, appearance and price. Food sold must be consistent with menu submitted and compliance will be monitored. Variations must be approved by the Culinary Chairperson.
To avoid duplication, quotas will be set on menu items. Returning vendors in good standing receive preference if applications are received prior to the deadline.
Booth Theme
A description and sketch or image of your booth layout is required. On a separate sheet, describe decor and/or costumes planned and include a sketch of your booth. Be sure to indicate the front of the booth, overall dimensions and expected traffic patterns.
Regulations
Vendors are responsible for compliance with all regulations. Detailed regulations are included in the Culinary Vendor Contract. CCAFI has the right to remove any vendor and/or deny future participation for failure to abide by the regulations.
Submission of an application is a commitment to jury only.
You must be present during the entire festival.
A working fire extinguisher on-site is required.
Booths are assigned in advance and the use of a site is restricted to the juried vendor. Booths are assigned randomly, with preference given to returning vendors whose applications are received prior to the deadline. Booths are accessible from three sides with a two foot space between. Depth may not exceed 20 ft.
No attempt should be made to break down until the close of the event at 6:00pm Saturday and 5:00pm Sunday.
Food sold must be consistent with menu submitted. Compliance will be monitored. Sales take place only at the assigned booth location; no hawking. No sales of promotional items are permitted (i.e. mugs, t-shirts, posters, etc.). There will be NO exceptions.
All materials and equipment must be contained within the assigned space. Do not encroach on your neighbor's assigned space. The back and sides of booths must be kept free of debris at all times. Backdrops or tarps are recommended.
Vendors must provide all of their own supplies and equipment.
Vendors are responsible for providing adequate volunteers and/or staff to set up, operate and tear down booths.
Arrangements may be made for parking trailersoff-site if requested in advance. Space is limited and granted first-come, first-served.
The only energy sources allowed, other than electric provided, are bottled propane or pre-approved wood or charcoal.
Beverages are a menu item. If you wish to sell more than one beverage, additional choices will count as regular menu items.
Beverages must be served in paper cups, and empty cans or bottles disposed of properly. Do not put cans or bottles in the trash barrels or recycling bins provided for public use. In an effort to minimize litter, no plastic cups, drinking straws or stirrers are allowed, except with advance permission.
At the close of each day, fires and hot surfaces must be extinguished and/or cooled before leaving. Noncompliance will result in exclusion from future participation.
VENDORS ARE RESPONSIBLE FOR REMOVING THEIR OWN TRASH. A dumpster is provided for this purpose in the Frontier parking lot. Failure to comply will result in forfeiture of your $25 Trash Deposit. Access to the lot is available through the Lackawanna St. gate. DO NOT DUMP OIL OR GREASE ON-SITE OR PUT IT IN THE TRASH. Oil & grease should be taken with you when you load out.
Sales Tax
Vendors are required to collect and pay appropriate sales tax and to prominently display a current NYS Sales Tax Certificate in their booths. Vendors must comply with all regulations as set by the NYS Department of Health and the Chenango County Board of Health, phone 607.337.1673.
Insurance
Vendors are required to provide proof of liability insurance in the amount of $1 million with COLORSCAPE CHENANGO ARTS FESTIVAL, INC. listed as additional insured. This certificate is required by May 29th, 2023.
Liability
Overnight security is provided, but CCAFI assumes no responsibility for equipment or supplies. In the event of natural disaster or other circumstances, a decision to cancel the festival during its course may be made by CCAFI Board of Directors. If the decision is made, CCAFI will not be responsible for any cost(s) incurred by vendors or loss of potential earnings. In the event of a full cancellation prior to the start of the event, entry fees will be refunded.
Please Note
While the weather in September is typically warm and dry, thunder-storms are possible. You should bring adequate weights for your booth in the event of wind. No stakes are permitted on the pavement.
Entry Deadline
Applications must be post marked by 5:00pm on Monday, March 27th, 2023. A non-refundable $25 late fee will be assessed for applications mailed after this date.
Include a self-addressed, stamped envelope (SASE) for notification of the jury's decision, which will be mailed by May 1st, 2023.
Entry fees, signed contracts, proof of health permit, sales tax number and proof of insurance must be received by Monday, June 5th, 2023. Failure to pay fees or submit the required paperwork by the deadline may result in forfeiture of your jury acceptance and/or the assessment of a non-refundable $25 late fee.
No Refunds After July 31, 2023
The City of Norwich requires that you provide a Driver's License Number and Date of Birth for a contact person. $5.00 of your Entry Fee goes to the City to cover their Vendor Permit Fee.
Fees
10′ wide space with 1-20 Amp oulet: $300
20′ wide space with 2-20 Amp outlets: $600
Food Truck: $500
Nonprofit Discount (proof required): $50
Trash/Damage Deposit (see rules): $25
Late Application Fee (after April 1st): $25
Late Paperwork Fee (after May 31st) $25
Mail by March 27th, 2023:
Completed application form with SASE
Mail by June 5th, 2023:
Entry fee and $25 Trash/Damage Deposit
Signed Culinary Vendor Contract
Insurance Certificate listing Colorscape Chenango Arts Festival, Inc. as additional insured
Current NYS Sales Tax Certificate Number
Proof of Health Permit from the Chenango County Dept. of Health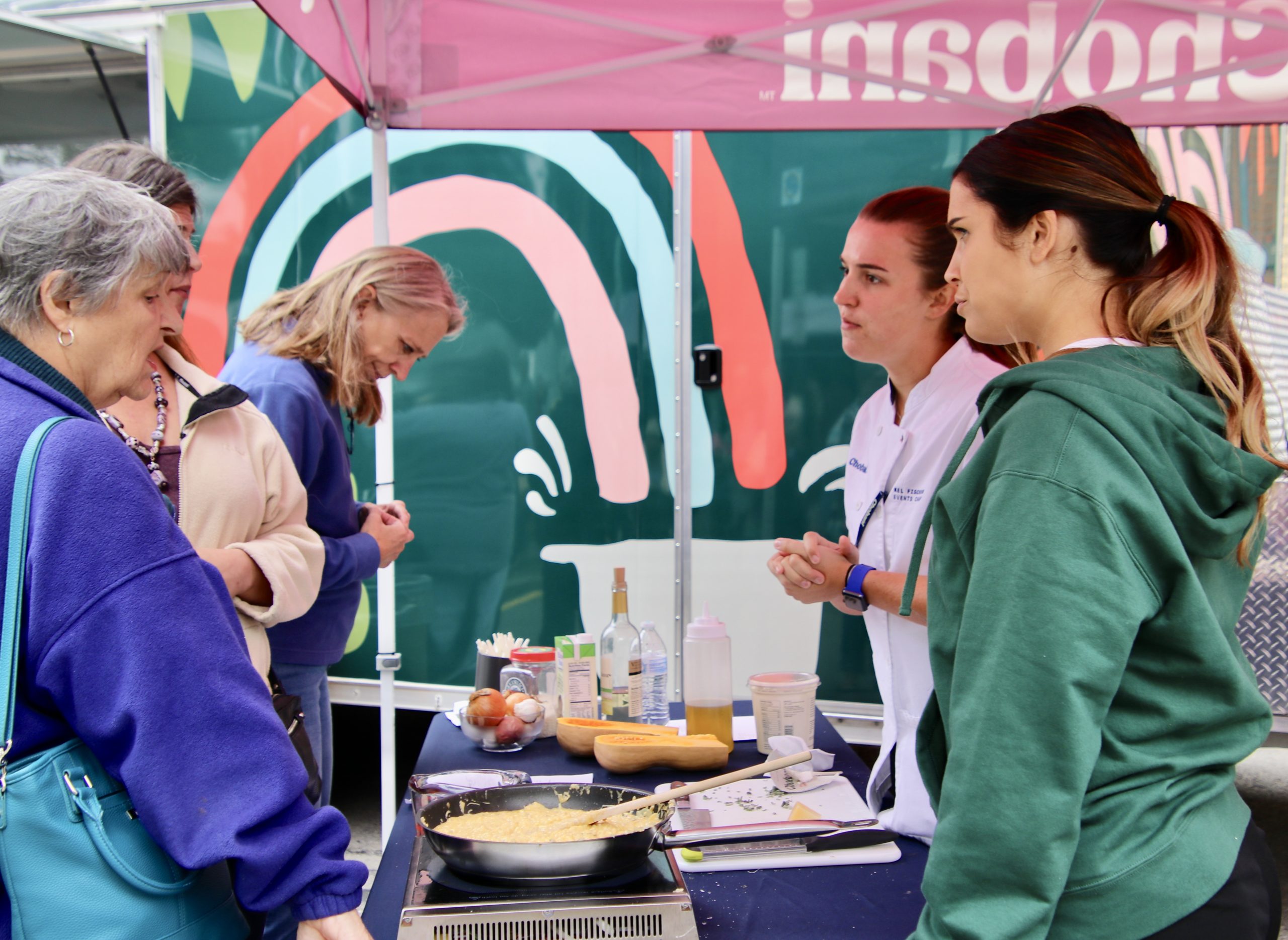 Colorscape is proud that our very own Chobani sponsors our Culinary Court.