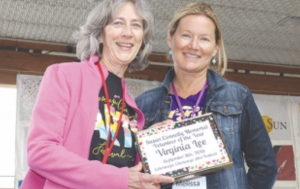 Congratulations to Virginia Lee, the Colorscape Chenango Arts Festival 2018 Susan Connelly Volunteer of the Year.
Virginia is a Norwich resident and retired teacher at Sherburne-Earlville Central School. She's been volunteering at Colorscape since 2007, often as a booth sitter which requires a high level of trust and responsibility. Virginia has also hosted artists in her home since the artist hospitality program's inception in 2010. She's unfailingly cheerful, friendly, and willing to help wherever she is needed.
Thank you, Virginia!
[Photo: Virginia Lee receives the Susan Connelly Volunteer of the Year Award presented by Colorscape Board Director Melissa DeCordova at the 2018 festival. A Frank Speziale photo.]