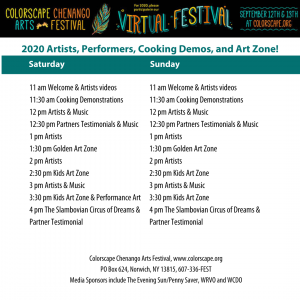 The 26th Colorscape Chenango Arts Festival will take place this Saturday and Sunday, September 12 and 13, online. Festival-goers can connect via the link on www.colorscape.org Saturday morning, starting at 11 am. 
Ranked by Sunshine Artist Magazine as one of the top 200 fine arts and design shows in the county, the centerpiece of this free, two-day festival is the art, and being online is no exception. Colorscape will feature over 30 artist videos showcasing their paintings, sculptures, fabric art, fine crafts, photography, and more, with opportunities to purchase. Professional artists have submitted their videos from all over to participate in what Festival organizers are calling it "the best show in the region and one you don't want to miss". 
During this virtual Festival, Colorscape will celebrate more than just visual arts. Musical entertainment, featuring headliners such as fan favorites the Slambovian Circus of Dreams, Realtime Dixieland Jazz, Bruce Beadle, and Adam Ezra. There will also be cooking demos by Chobani and Colorscape's Goldens Art Zone.
Colosrcape Chenango's  "Virtual" Arts Festival will take place on September 12 & 13, from 11 a.m. to 5 p.m. on Youtube. The schedule of events for the virtual Festival can be found at www.colorscape.org. 
About Colorscape Chenango Arts Festival: Colorscape Chenango has been celebrating premier artists in downtown Norwich since 1995. The 2020 Colorscape will be held online this year, September 12-13. Further details can be found on www.colorscape.org/ and on social media. Media sponsors include The Evening Sun, WRVO, and WCDO. Colorscape is made possible, in part, by the Broome, Chenango & Otsego Decentralization Program, administered by the Chenango Arts Council and the New York State Council of the Arts with the support of Governor Andrew Cuomo and the New York State Legislature.